Casual games are one of the top activities most people engage in nowadays. People are so stressed with the coronavirus pandemic and just want to do something relaxing and fun. If you loved Homescapes before, get a load of lots of rewards when you download Gardenscapes to your PC or mobile phone! This game allows the player to take care of plants, play different Match 3 games, solve mazes, and more. Fix your garden with the help of Austin the Butler and your adorable dog! Build your very own dream garden at your fingertips and share this with your friends on Facebook as well.
Experience Match 3 Games and Mazes
If you are familiar with the game, Candy Crush, or any puzzle type of game, Gardenscapes also has this feature. You get to use and master power-ups and boosters to level up fast. Boosters may be the Rainbow Blast, Shovel, Double Bomb and Dynamite. It is fairly easy in the beginning, but the puzzles get difficult as you level up. You just need to match and swipe the same colored objects to clear each level. Aside from match 3 games, there are challenging mazes to play with.
Gardenscapes is a fun and entertaining video game because you can earn points to level up while playing Match 3 levels and mazes. You will definitely not feel bored when you start playing this game. But just like any game, expect some pitfalls at the first few tries. You will be given numerous clues when the level becomes hard. A good and useful tip would be not to always rely on the clues. Just go on with your strategy and who knows? You might level up faster as expected.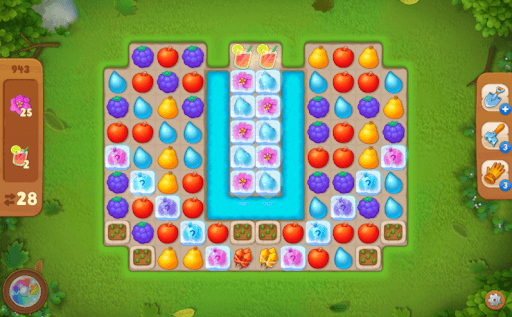 Decorate and Renovate the Garden
Of course, Gardenscapes main feature is to create or fix the garden area in the home. You will be given a torn, run-down garden that you must renew or renovate. You need to look at the entire field, plan your moves accordingly, and achieve your goals. There may be tasks to do such as collect some butterflies, acorns, and other things around. Points will be added to you if you succeed in the challenging tasks presented in the game. You can change the bench, add some decorations or even clean up the dirty garden if you must. Think and strategize a good plan so that your garden will have a good turnout.
Since you can play this game online, having more Facebook friends gives you more lives. So be social and add other fellow players to avail of extra lives. Another great thing in the game is that you can also make friends with characters that roam around. Don't forget, you have a cute puppy to cheer you up every time you do something in the garden. Gardenscapes is indeed a total package!
Follow a storyline full of surprises even when you go offline. This game can still be played minus the internet connection so what are you waiting for? Download Gardenscapes to your desktop PC or mobile now! Happy gardening!